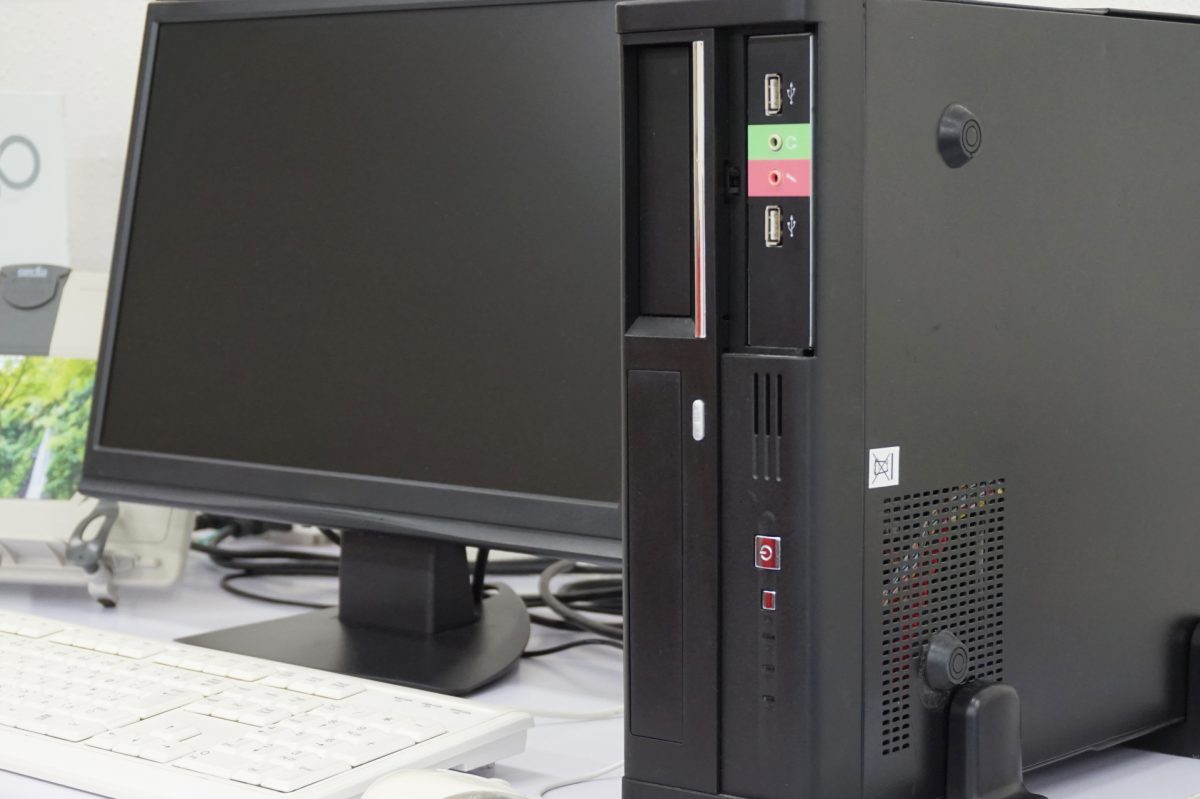 ProRender + Blender: A Better Option Than Cycles or Eevee?
---
If you're keeping up to date with the newest advances in graphics technologies, you're likely already aware AMD has had quite a few successes in the past few years including ProRender, Radeon's CPU+GPU rendering engine — a physically based engine built from industry standards and easily integrated into almost all major 3D modeling software including Maya, Cinema4D, 3DS Max, and Blender. 
But what exactly is it capable of? Though ProRender can be used with a robust list of software, we'll be focusing on Blender's popular UI to examine the features and parameters that the ProRender engine uses to bring out the very best in your scenes.

View Layer Properties & RPR Passes
Once you've set Radeon ProRender as the active render engine in Blender's Render Properties tab, take a look at the new functions made available starting with the new render passes found in the View Layer Properties. 
The RPR Passes tab allows you to choose the way your final render will look by adding or removing certain elements from a render output pass. This gives you a lot more control and precision when it comes to composition and postproduction, especially if it's just to make minor tweaks or adjust colors. It's a lot less of a hassle to adjust once the rendering phase is done.

This is definitely one of the pros when using the ProRender engine over Blender's internal Cycles or Eevee engines. RPR Passes include a comprehensive selection of passes that are all one-click operations, making the calibration process fast and easy, such as Ambient Occlusion, World Coordinate (which renders objects based on their position in the scene), and Shadow and Reflection Catchers  (a shadow or reflected light isolator for objects using the Shadow Catcher material).
| | |
| --- | --- |
| View Layer Properties (in Cycles engine) | View Layer Properties (in ProRender engine) |
World Properties
The World Properties tab is meant to shape the overall aesthetic in your viewport, dealing with the world and the ambient lighting of the scene.

Tools like Background Properties, Environmental Light and its intensity, and Reflection and Refraction Properties can be found here. For those more familiar with Blender, you will notice that the Surface sub-tab (background color and details) and Ambient Occlusion and Volume sub-tab (background shader options) have been removed once you switch to ProRender.
| | |
| --- | --- |
| World Properties (in Cycles engine) | IBL tab of World Properties (in ProRender engine) |

These tabs have been replaced with an easier-to-use approach provided by Radeon. Unlike Cycles and Eevee, ProRender has a quick tab menu for Sun & Sky Properties that can help you set up natural lighting and even fog effects for the scene. This option gives you complete control over the world's sky parameters, including glow, saturation, and turbidity.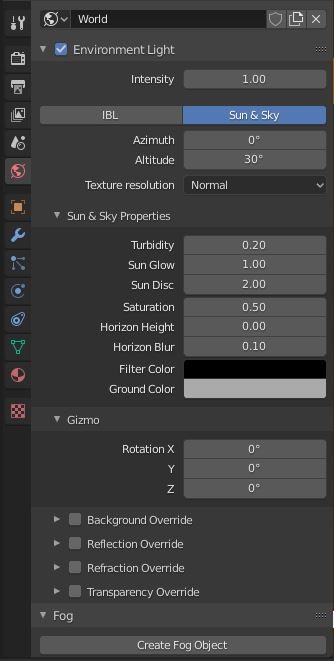 Sun & Sky tab of World Properties (in ProRender engine)
Comparatively, when using Cycles or Eevee, these operators are nodes that are implemented in the World element of the Shader Editor (like Sky Texture in the Cycles engine), but if you're fairly new to node-based material editing, ProRender may save you some frustration when setting up the scene.
Object Properties
Beneath the World Properties tab are the Object Properties, which help set specific parameters for individual objects that can be viewed once rendered or animated.

The differences in menu options here are minimal, but they now include an RPR Settings tab that gives objects special parameters that can be used to assist the rendering process. The aforementioned Shadow Catcher and Reflection Catcher settings can be found here, as well as the Portal Light and Motion Blur settings.
| | |
| --- | --- |
| Object Properties (in Cycles engine) | RPR Settings of Object Properties (in ProRender engine) |

Material Properties & RPR Uber
Blender is known for its node-based material or "shader" editor. Nodes are data building blocks that feed information into one another and combine to produce complex effects. These effects can be used in one of three ways: 
as a material

as a texture

in a render composite
When it comes to material nodes, Blender's standard tool is the Principled BSDF Shader, which allows you to choose your base color, add complex elements like subsurface colors, and even create bump and displacement maps. For the seasoned Blender user, this node has many possibilities, and though it may take some time to properly calibrate and master, the reward is seeing the fruits of your labor.
AMD and its ProRender engine have found a way to streamline this process with the RPR Uber Material, the ProRender equivalent to the Principled Shader building block. The Uber Material is a multipurpose shader node to assist in creating real-world-like materials in Blender. Where other nodes would be necessary to create effects like emission, diffusion, and roughness, the Uber Material consolidates all of those parameters into a single node that can be altered and tweaked to your desired specifications. 
| | |
| --- | --- |
| Material Properties (in Cycles engine) | Material Properties (in ProRender engine) |
It also comes equipped with its own pre-configured, physically based material library to help you find any metal, liquid, or texture you're looking for. You can browse through the materials in the provided categories, or you can search for a material by name. You can even add your own special materials from other files and import them into your material library.
| | |
| --- | --- |
| Material Library Index of Material Properties (in ProRender engine) | Material Library Browser and Material Preview of Material Properties (in ProRender engine) |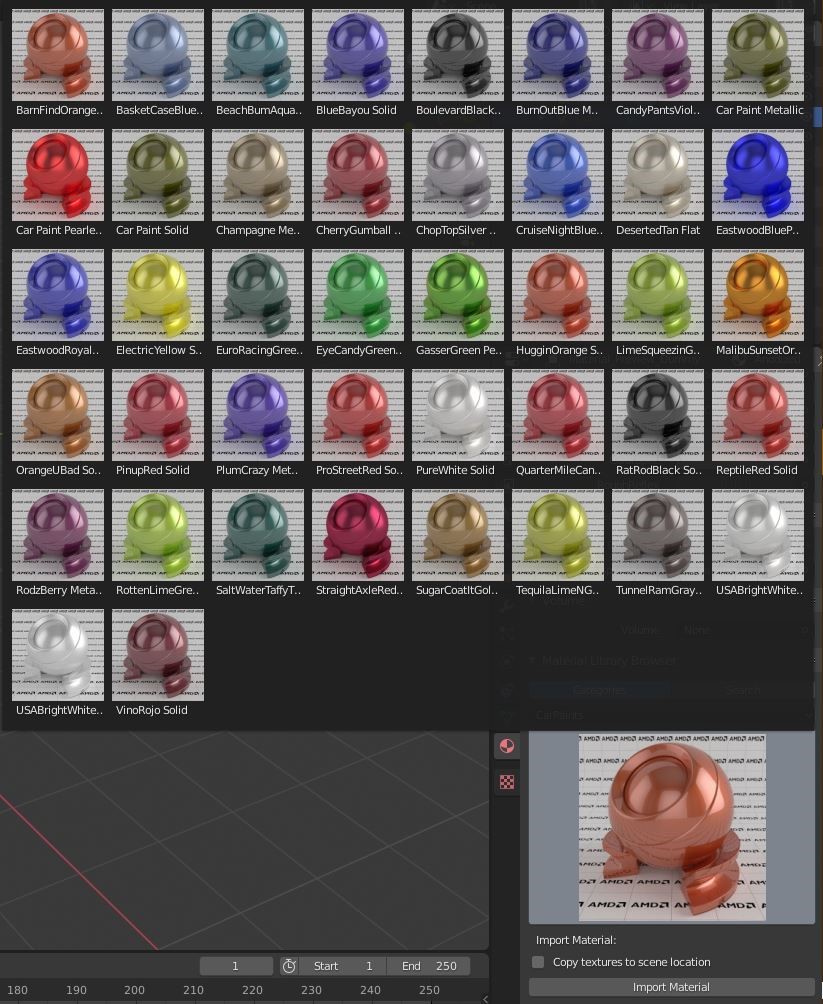 Expanded Material Preview Index of Material Properties (in ProRender engine)
Drawbacks of Using ProRender for Blender
While AMD has indeed outdone itself by creating this exceptional plugin (for free, no less), the integration may feel counterintuitive at times for veteran Blender users.

If you're confident in your Blender abilities, you may find yourself conflicted with ProRender's implementation. On one hand, ProRender is an amazing rendering engine with the potential to produce beautifully rendered images and animations. On the other, it isn't quite as well implemented with Blender as it is with 3ds Max and Cinema4D just yet.

ProRender does indeed have an elaborate Material Library but no comprehensive material converter for Cycles or Eevee materials. Some internal Blender textures and materials are outright incompatible with the RPR Passes as of the date of this article. Presumably, modeling shouldn't be too much of a problem, but you're certainly going to have a hard time with procedural modeling. ProRender's texture library currently leaves a lot to be desired, doesn't allow for much innovation, and feels a bit unnatural if you're already used to Cycles or Eevee.
The Future of ProRender and Blender's Compatibility
The fact of the matter is that both ProRender and Blender are still very new to the industry, but they have cut their teeth and made it known that they listen to their users. It's only a matter of time before all of the implementation issues will be improved upon as both the engine and the software are always being updated and tweaked to be the very best they can possibly be.

Give ProRender a try for your next Blender project and see how it fits with your workflow. You will be pleasantly surprised by its interface, and absolutely blown away by its performance and rendering results. And while you're at it, head over to our cloud-based rendering page to see how Render Pool can help streamline your production process. Happy rendering!