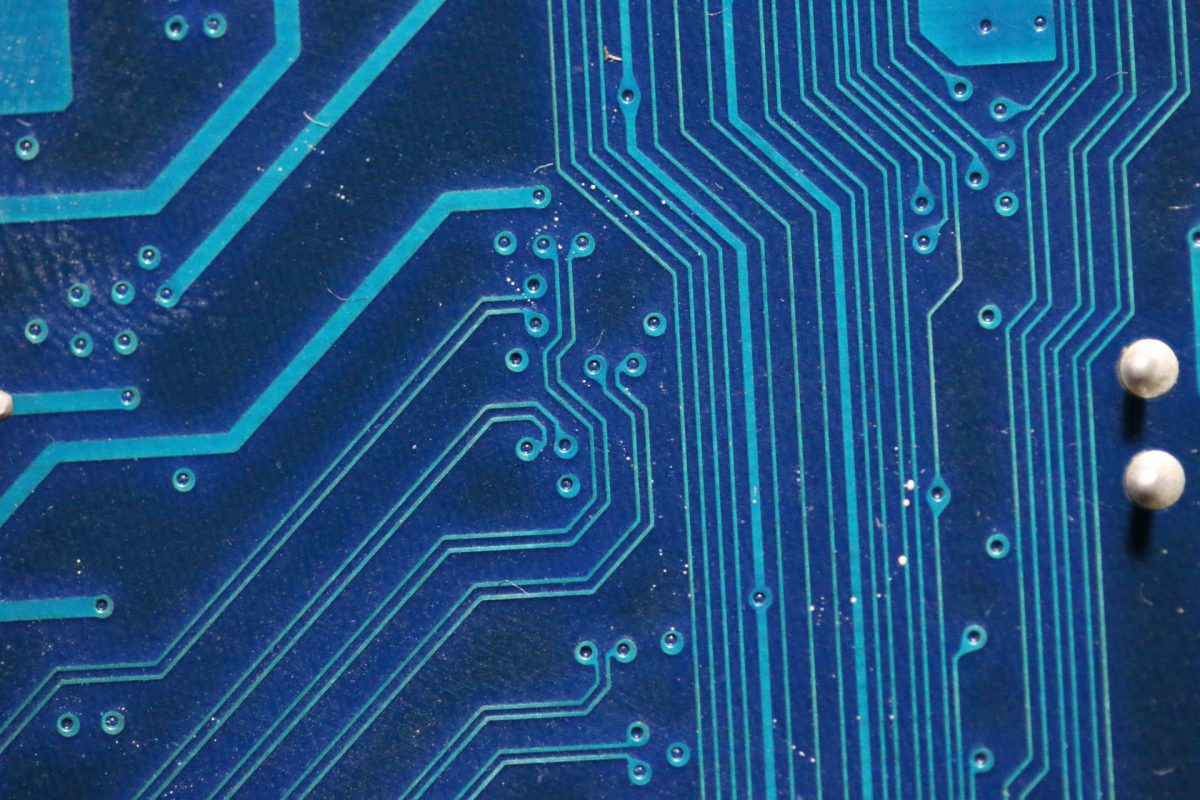 8 Best GPU-Accelerated Rendering Software to Try in 2022
---
Over the years, we have talked about many CPU and GPU rendering solutions, especially considering the variety of renderers available to developers and consumers alike. Rendering engines are becoming more competitive by expanding their compatibility across most operating systems, and many 3D modeling software now allow you to compare and contrast their quality by switching between them on a whim and a click. Keep reading as we share our 8 picks for GPU rendering in 2022!
CPU vs. GPU Rendering
If you have heard about GPU rendering but are not sure how it is different from CPU rendering, you can read our comparison here.
In essence, GPUs do not replace the CPU, but accelerate and streamline existing practices and workflows, maximize output, and offset  processor-heavy computations in applications that would bog down a system without them.
The CPU is still pulling its share of the weight, even with the fastest, most powerful GPUs at your disposal. It is just that with GPUs, applications like rendering software run much faster and smoother.
8 Best GPU-Accelerated Rendering Software
*Prices are accurate as of the publication of this article.
Radeon ProRender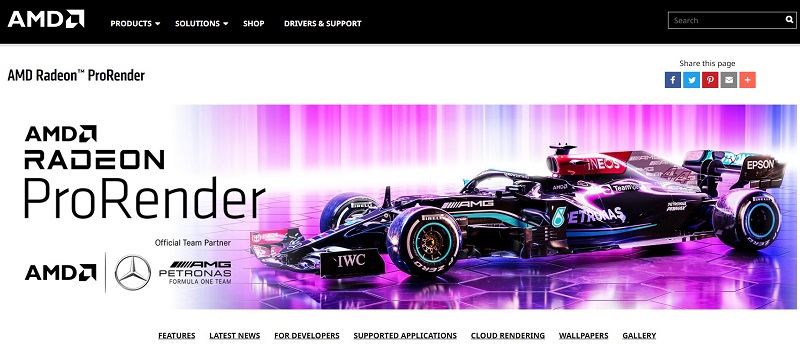 Website: https://www.amd.com/en/technologies/radeon-prorender
OS: WIndows, MacOS, Linux
Software Compatibility: 3ds Max, Blender, Houdini, Maya, Unreal Engine
Price: FREE
Built on Radeon™ Rays technology, ProRender's physically correct ray-tracing engine leverages GPU and CPU power using open industry standards for fast and amazing results. This relatively new engine continues to improve its offering with new features, including an easy-to-integrate and easier-to-use UI, CPU+GPU heterogeneous rendering for even faster rendering and viewport visualization, and beautiful Physically Based Rendering (PBR)-based results.
ProRender is supported by most 3D modeling software, but it shines best in Autodesk Maya/3ds Max, Blender, and SideFX Houdini. Using OpenCL and Apple Metal, this engine is compatible with Windows, macOS, and Linux platforms. Furthermore, ProRender really has a chance to become an industry-standard contender for large studio workflows with USD Hydra compatibility now being implemented in Blender.
Not just for photorealistic imagery, ProRender also continues to perfect its toon shader materials and workflows and is used for film and television animation and production, such as Netflix's CG drama series RESIDENT EVIL: Infinite Darkness. If you are interested in both realistic imagery and cel-shaded animation, now is the time to consider diving into ProRender.
V-Ray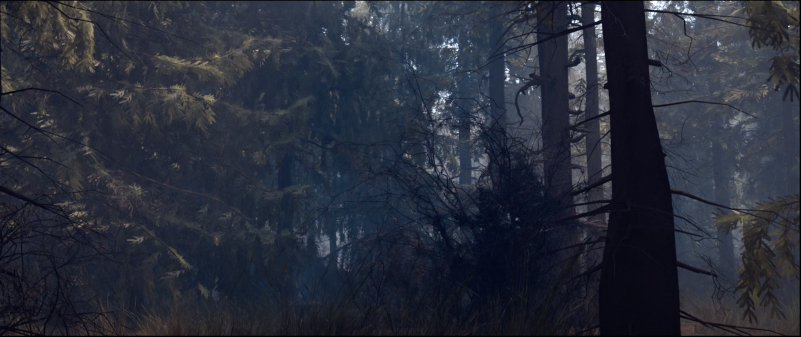 Website: https://www.chaos.com/all-products#vray
OS: Windows, MacOS (Benchmark), Linux
Software Compatibility: 3ds Max, Blender, Cinema 4D, Houdini, Maya, Nuke, Revit, SketchUp, Rhino
Price: $699 (1-Year license)*
Though originally known for its beautiful results offered to designers of architecture visualization, Chaos Group's production-ready, ray-traced rendering plugin V-Ray now offers an extensive suite of useful tools like scattering and decals for easy material mapping to create all sorts of professional design, VFX, and animation.
V-Ray's material and texture libraries for translucent materials like glass are also very impressive, offering photorealistic results for your scenes.
A CPU and GPU-based rendering engine, V-Ray is considered one of the best on the market, and is available for integration in just about every major 3D modeling software there is. Its price may deter some new users, but it has recently been made available for Blender users as well, which may make its application that much more appealing for freelancers and small design and animation studios.
Lumion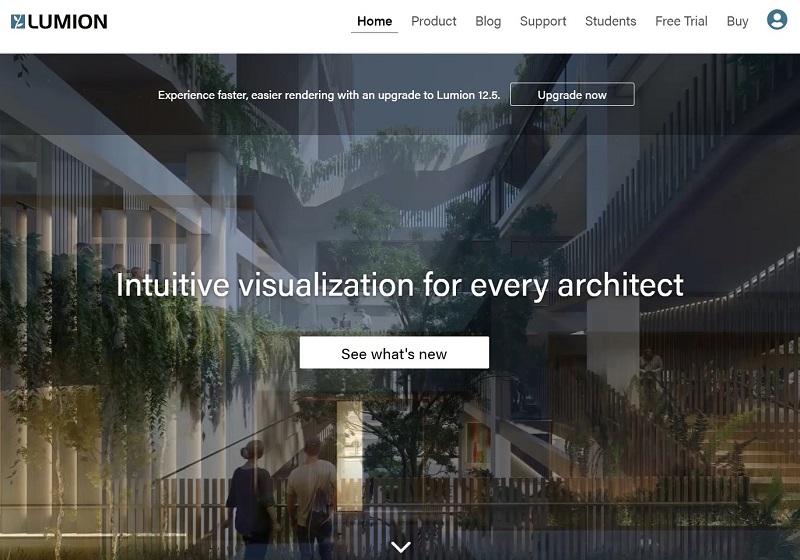 Website: https://lumion.com/index.html
OS: Windows
Software Compatibility: 3ds Max, AutoCAD, Revit, Rhino, SketchUp, VectorWorks
Price: $1,600 (Standard Version) / $3,200 (Pro Version)*
We have talked about Lumion before, but it continues to impress and is still a mainstay in the architectural visualization community. This rendering engine is supported by most CAD-based modeling programs including SketchUp, Revit, Rhino, and ArchiCAD.
Known for being used for architectural rendering and landscape design, Lumion offers a robust object, material, and texture library that provides photorealistic results for your 3D scenes. As it is a GPU-based rendering engine, you can view your results directly in your viewport as it renders in real-time, giving you complete control as you augment the camera and lighting to get the best final render.
Though a standard license is not exactly affordable to most consumers, Lumion does have a two-week free trial available to new customers who want to experiment with its features.
Indigo Renderer

Website: https://www.indigorenderer.com/indigo4
OS: Windows, MacOS
Software Compatibility: Standalone Engine, Cinema 4D, Blender, Maya, Revit, SketchUp
Price: €595 (Single license) €145 (Standalone license)*
Developed by Glare Technologies, Indigo Renderer's OpenCL-based GPU engine provides industry performance compatible with both Nvidia and AMD graphics cards. With Indigo 4's release, it claims to be 10x faster than before.
Indigo boasts some very new features such as lightmap baking, sub-surface scattering now supported on GPU rendering, texture compression, and a new dedicated fabric material. And the latest release is considered to be the most streamlined and enjoyable version of the renderer yet. UI enhancements are also new, such as a dark mode for easier viewing, light layer thumbnails, interactive material previews, RGB color curves for editing, and smoother navigation.
It functions as a standalone renderer, but it also works well as a plugin for a short but satisfying list of 3D programs, including Blender, Cinema 4D, Maya, Revit, and Sketchup.
Unfortunately, the license price is a bit high, but with its GPU-based processing power, it boasts excellent rendering speeds and delivers beautiful results in seconds.
Cycles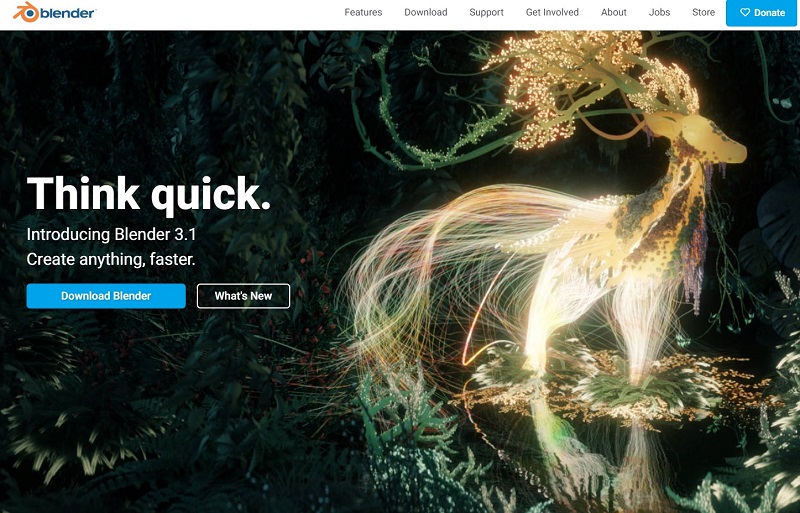 Website: https://www.blender.org/
OS: Windows, MacOS, Linux
Software Compatibility: Blender
Price: FREE
Blender's 3.0 build was a very big deal at the time of release due to the announcement of its internal render engine Cycles getting a complete overhaul. With the 3.1 build, Blender is still keeping users and studios on their toes with their updates and builds. Cycles (also referred to as Cycles X) is considered to be the standard engine Blender users rely on for its ray-tracing rendering capability, but now it has an incredibly faster rendering speed to add to that.
Ambient occlusion, volumetric denoising, and depth passes have been improved, and the whole core of the engine was rewritten from scratch to render much faster than the original Cycles with 1.5–8x faster render speeds compared to 2.9x builds.
Also, with Blender 3.1, it is now compatible with Apple's Metal Framework making Cycles MacOS-friendly. Both AMD and Nvidia GPUs can utilize Cycles and it comes paired with Blender, which means it is free to use.
For now, we can only speculate what the 3.2 Cycles build will have to offer as it is not yet in a stable release. We are excited to see that Cycles is now quite the force to reckon with and that it is finding itself in more professional studios and is being used for larger projects.
Eevee
Website: https://www.blender.org/
OS: Windows, MacOS, Linux
Software Compatibility: Blender
Price: FREE
While Cycles is considered to be the standard engine Blender users rely on for its ray-tracing rendering capability, Eevee is its second. Like Lumion, Eevee makes render times non-existent. It is exclusively a real-time renderer and can be set as the default viewport and be just as fast as Blender's workbench viewport. Since it comes packed with Blender, which is already free, there is no cost to using Eevee.
But Eevee is still considered to be too new and more suited for beginners; not an industry-standard tool. Others claim that you sacrifice realism for speed and while that may be somewhat true, there are still many applicable aspects to Eevee that can be used in low-poly or even game developing environments.
OctaneRender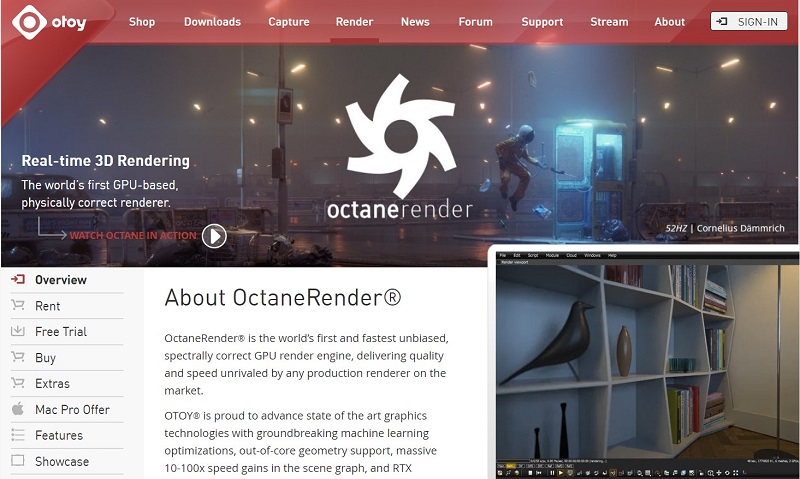 Website: https://home.otoy.com/render/octane-render/
OS: Windows, MacOS, Linux
Software Compatibility: Standalone Engine, ArchiCAD, AutoCAD, Blender, Cinema 4D, DAZ Studio, Houdini, Lightwave, Maya, Modo, Nuke, Revit, Rhino, SketchUp, Softimage
Price: €699 (1-Year License) / €899 (2-Year License)*
Developed by OTOY, OctaneRender is still keeping strong with its beautiful lighting system and spectrally accurate visualization. It claims to be the world's first and fastest unbiased GPU rendering engine, with speeds that outshine its competition 10–100 times in terms of rendering speed.
This engine also prides itself on its real-time viewport rendering, streamlining your workflow and making it a cinch to navigate within your scene while being able to visualize what your final render will potentially look like with ease. It can function as a standalone renderer, but it also works well as a plugin for a long list of compatible 3D programs.
This renderer does unfortunately hold a bit of a high price for a license, but if you are serious about your renders, this may be one to consider giving a try. It commands impressive rendering speed due to its GPU-based processing power, a very extensive UI that allows for exceptionally minute tweaking, and it can produce beautiful results in only a few moments.
Redshift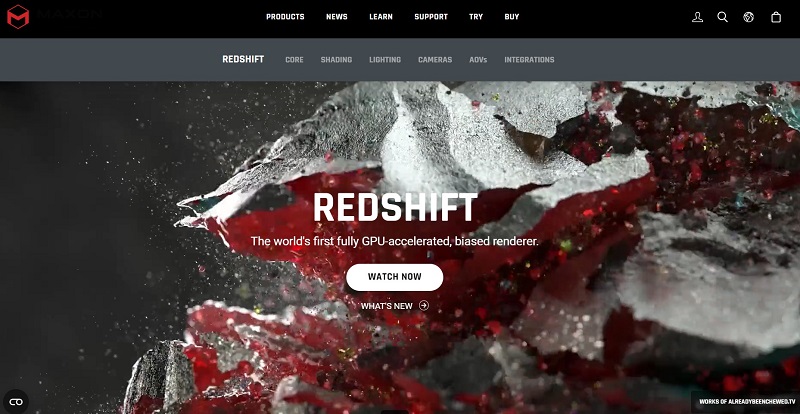 Website: https://www.maxon.net/en/redshift
OS: Windows, MacOS, Linux
Software Compatibility: 3ds Max, Blender, Cinema 4D, Katana, Houdini, Maya
Price: $45 (Monthly) / $264 (Yearly)*
Maxon's Redshift is still very popular in the VFX community and offers impressive complex shader and texture settings, out-of-the-box functionality, and GPU-accelerated speed.
While OctaneRender is an unbiased engine, Redshift considers itself more artist-friendly with its biased engine framework — meaning that there is less of a need for precision and calibration for aspects of a scene such as lighting settings and physics, giving the designer the ability to focus more on creating.
This engine is considered a must-have for those who want to animate visual effects and motion graphics. And even though it also carries a high price for a license, it is not anywhere near as costly as Lumion or OctaneRender. Redshift works well as an integrated plugin for Autodesk Maya and SideFX Houdini, making for very powerful workflows and beautiful results.
Best GPU Rendering Options on a Budget
As you can see, there is no shortage of GPU-accelerated rendering options available, and these are just our top picks.
If you are a 3D designer or animator on a budget, we recommend designing your models and scenes in Blender and then trying any of the following free rendering engines.
Radeon ProRender
Cycles
Eevee
Once you are ready to render, you can either utilize your local workstation or upload your Blender file to Render Pool, where our high-performance servers can complete your render in a fraction of the time at a very affordable price.
We are currently offering 100,000 trial points for new users to let you experience firsthand just how fast our render farm services are. Happy rendering!