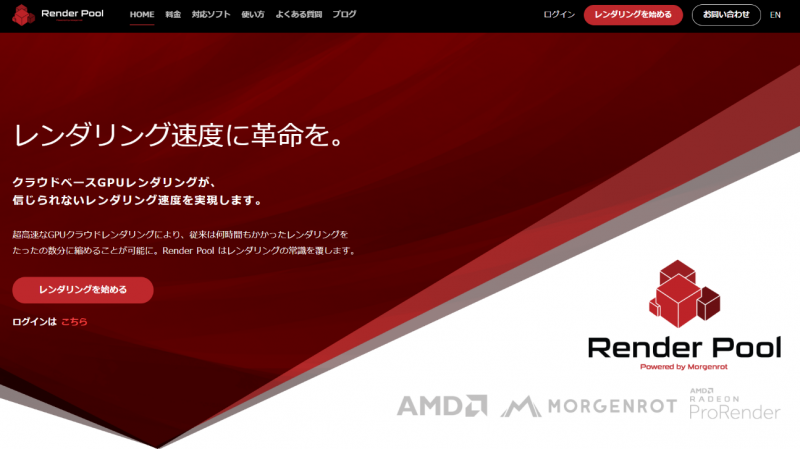 How to Adjust ProRender's Image Based Lighting (IBL) in Maya
---
Image Based Lighting (IBL) is a very easy and high-quality simulation of real-world lighting. You can project an environment map onto a virtual sphere that acts as a scene environment. The projected map is used to illuminate the scene and add reflection to the surface of the object.

How to Use ProRender's IBL in Maya
1. Make sure AMD Radeon ProRender is set as the renderer for Maya.
2. Add the RPR IBL node using one of the following methods.
From the menu bar, select Radeon ProRender > Lights > Create or Select an IBL Node.


Or, switch to the Radeon ProRender shelf and click the Create or Select an IBL Node icon.

3. Open the Render Settings window, switch to the Effects tab, expand the Environment section, and click Create next to the Image Based Lighting label.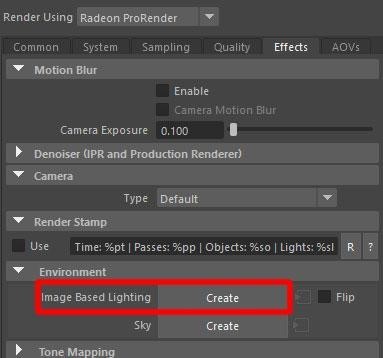 4. In the Attribute Editor, switch to the RPR IBL Shape tab and set the desired texture location in the File Path.

IBL Parameters
File Path
IBL applies texture maps to determine how light scenes are reflected or refracted by the model surface. Environmental textures are especially useful in physically based rendering (PBR) because they allow the artist to enhance the realism of the scene and the light rendering process.
For IBL, we recommend using spherical (360 degree) images in EXR or HDR format. However, ProRender also supports LDR images such as JPG and BMP.

Intensity
Intensity adjusts the brightness of IBL. It also affects the colors, reflections, and shadows of the scene.

Display
Display controls the visibility of the backplate image.

Note: Hiding the background does not affect the lighting and reflections of the scene.
Add Portal Mesh
Add Portal Mesh defines a mesh that acts as a portal in your scene. It can be added by clicking the Add Portal Mesh button and selecting the mesh you want to define as Portal light.
Move, rotate, scale IBL
The IBL sphere is so large that it cannot be logically moved or scaled. However, it can be rotated like any other light.